Newly released emails from a Hunter Biden business associate appear to show the former vice president's son and his colleagues used access to the Obama-Biden administration to secure private, off-the-record meetings between Communist Party officials, Chinese investors, and then-Vice President Joe Biden.
The new trove of emails from 2011–which are different than the emails recently published by the New York Post, which appear to the younger Biden using his access to secure White House favors on behalf of a Ukrainian energy company–were provided to author Peter Schweizer by Bevan Cooney, a one-time Hunter Biden and Devon Archer business associate. Cooney is currently in prison serving a sentence involving a 2016 bond fraud investment scheme, reports Breitbart.
The emails show Hunter's business associates discussing a plan to develop relations with what one of them called "China Inc." as part of a "new push on soft diplomacy for the Chinese." According to Breitbart News, Cooney reached out to Schweizer following Schweizer's 2018 book Secret Empires, explaining he believes he was the "fall guy" for the fraud scheme and that Archer and Hunter Biden had avoided responsibility.
Unlike the Ukrainian emails, which were heavily censored by Big Tech giants like Twitter, and have come under scrutiny from leftwing media as potentially fraudulent–of which there is no evidence–the recent email dump is the first time a close Hunter Biden associate has provided direct access to emails from his personal account. Cooney provided Schweizer with written authorization from prison along with his email account name and password, according to Breitbart News.
One email from Nov. 5, 2011, shows one of Archer's business contacts suggesting an opportunity for "potentially outstanding new clients" if they could arrange White House meetings with a group of Chinese businessmen and Communist Party officials. The group, called the Chinese Entrepreneur Club (CEC) and founded in 2006, has been called a "second foreign ministry" of the Chinese Communist Party, according to the Globe and Mail.
The group includes several top-level members of the Chinese Communist Party, including numerous senior members of the Chinese Communist Party, including Wang Zhongyu, vice chairman of the 10th CPPCC National Committee and deputy secretary of the Party group, Ma Weihua, director of multiple Chinese Communist Party offices, and Jiang Xipei, a member of the Chinese Communist Party and representative of the 16th National Congress.
The CEC delegation is comprised of China's most wealthy businessmen and industrialists, with a combined net worth equally roughly 4% of China's GDP, according to reports.
The emails appears to show the CEC had attempted numerous times to gain access to top White House officials to no avail before seeking the assistance of Biden's son's associates. That time, it seemed to work.
"Biggest priority for the CEC group is to see the White House, and have a senior US politician, or senior member of Obama's administration, give them a tour… If your friend in DC can help, we would be extremely grateful," an intermediary named Mohamed A. Khashoggi emphasized in one email, calling the organization "China Inc."
"From the DC side as you will see below they [CEC] have written letters to several members of the administration and others and have so far not had a strong reaction," he wrote.
That email was sent to Gary Fears, a political fundraiser who has been labeled "controversial" and was caught up in a scandal in the 1990s, according to Breitbart. It was forwarded to Archer on Nov. 5, 2011 and also expressed concerns that the group might have to register as a lobbyist under the Foreign Agents Registration Act.
Fears then told Archer to contact Khashoggi about the getting the CEC into the Obama-Biden White House, adding it would be "perfect for" Archer to also "attend" with them and then "get guys for the potash deal," referring to mining operations that involve salts containing potassium. That same day, Archer sent the email to Khashoggi with a business proposal for a potassium mine deal he lined up.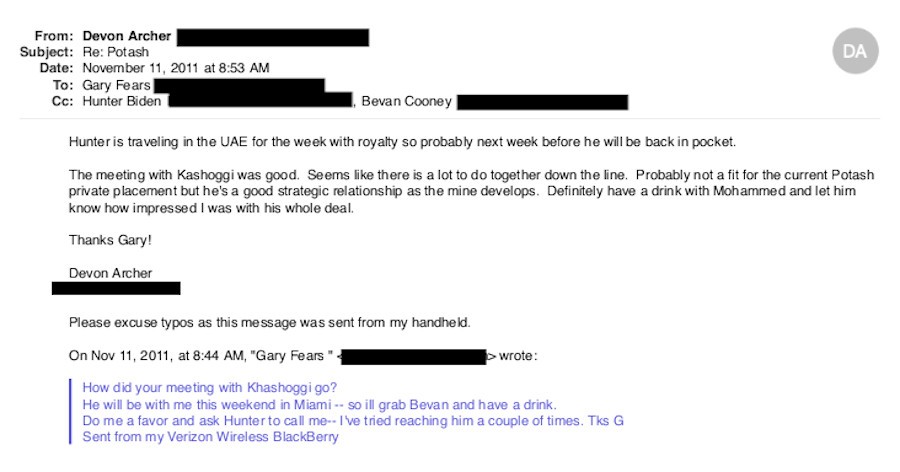 Six days later, an email was sent asking how the CEC meeting went, closing with "Do me a favor and ask Hunter [Biden] to call me — I've tried reaching him a couple of times."
Archer wrote back, "Hunter is traveling in the UAE for the week with royalty so probably next week before he will be back in pocket…. The meeting with [CEC representative] was good. Seems like there is a lot to do together down the line. Probably not a fit for the current Potash private placement but he's a good strategic relationship as the mine develops. Definitely have a drink with Mohammed and let him know how impressed I was with his whole deal."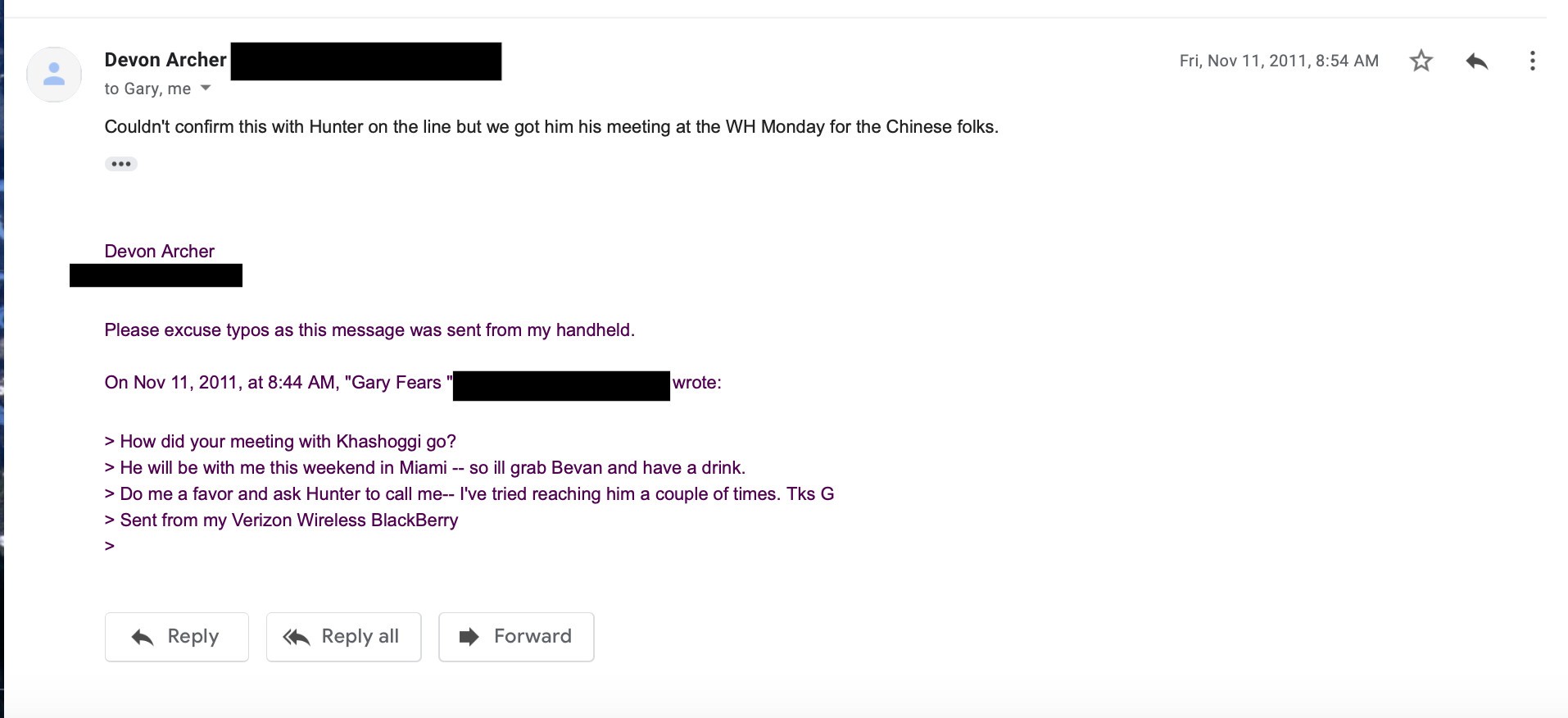 Schweizer reports,
The Obama-Biden Administration archives reveal that this Chinese delegation did indeed visit the White House on November 14, 2011, and enjoyed high-level access. The delegation included approximately thirty members, according to White House visitor logs. But those records also obscure perhaps the most important item for the Chinese delegation: a meeting with Vice President Joe Biden himself.

The visitor logs list Jeff Zients, the deputy director of Obama's Office of Management and Budget (OMB), as the host of the CEC delegation. Obama had tasked Zients with restructuring and ultimately consolidating the various export-import agencies under the Commerce Department—an effort in which the Chinese delegation would have a keen interest.

A trip itinerary posted by the CEC also confirms the delegation met with Obama's then-recently-confirmed Commerce Secretary John Bryson.
As of Friday afternoon, the Biden campaign has not responded to media requests about the new emails.